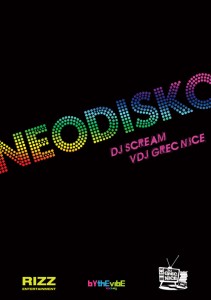 Motto: NeoDisko
Datum: 4.6.2010
Location: Rizz Eat&Drink
Ort: Rosenheim
Zeit: 22 Uhr – 4 Uhr
————————————————————–
NEODISKO IM RIZZ – What is it?
DJ Scream:
Das Jahr 2008 gilt als die Geburtsstunde von NeoDisko. Genreübergreifend fliessen hier begleitet von Fiepsern Scratchern und Krachern Songs von Mr Oizo, Genesis und Timbaland ineinander.
Akustisch/visuell wird das ganze unterstützt von VDJ Grec Nice, welcher seit 2 Jahren als Pionier im Bereich Video-Scratching gilt.
Open your mind and get ready for the Neo-Disko!
Share on Twitter
Eine Antwort zu "NEODISKO @ Rizz Rosenheim"



21:06

am 02.Jun 2010